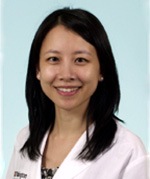 Anne Lin, MD, MSHS
Co-Investigator, AbStats
Dr. Anne Lin attended Medical School at Tufts University School of Medicine in Boston, MA. She completed her General Surgery Residency at Brown University in Providence, RI. Following the completion of her surgical residency she pursued further training in Endorectal Ultrasound Imaging and colorectal cancer research at Memorial Sloan-Kettering Cancer Center in New York, followed by a fellowship in Colon and Rectal Surgery at Cleveland Clinic Florida in Weston. She was on staff as an Assistant Professor of Surgery at Washington University School of Medicine in St. Louis from 2007 to 2011 where she was the director of the Inherited Colorectal Cancer Registry before joining the UCLA Department of Surgery as an Assistant Professor of Surgery. Dr. Lin completed studies in Health Services Research at the UCLA School of Public Health, and received a Master's Degree in Health Services.
Dr. Lin is a Fellow of the American Society of Colorectal Surgeons and the American College of Surgeons. She actively participates in multiple committees of the American Society of Colorectal Surgeons. She has a clinical interest in treating patients with colorectal cancer and large polyps, the latter which may be amenable to transanal minimally invasive surgery (TAMIS) or combined endoscopic laparoscopic surgery (CELS). Dr. Lin's research interests include improving the quality of care for patients undergoing colorectal surgery. Her recent research projects include quality improvement projects focused on Lynch syndrome screening, improving discharge transitions through standardization of perioperative care, and development of innovative mobile health solutions to facilitate patient care and patient experience.